As a building contractor, we combine competence with our services.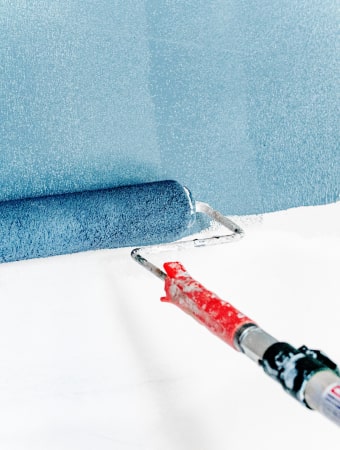 Painting works
The desired living space should be provided with the perfect surfaces and colors.
Of course, we are happy to respond to your individual ideas. When it comes to the subject of material, we rely on high-quality and sustainable products, preferably from the company Brillux.
You can expect the following services:
Wall and ceiling paints
Paintings for windows, doors, radiators, pipes, railings and stairs
Balcony coatings
wallpapers
Flooring work
The choice of flooring is a decisive factor for the atmosphere in the respective apartment. In addition, of course, the flooring performs practical functions such as insulation for heat and sound. To help you find the perfect flooring for your project, we are of course at your disposal with personal advice. When it comes to flooring, you can choose between different variants:
Solid parquet
Plank flooring
vinyl
multilayer parquet
design flooring
PVC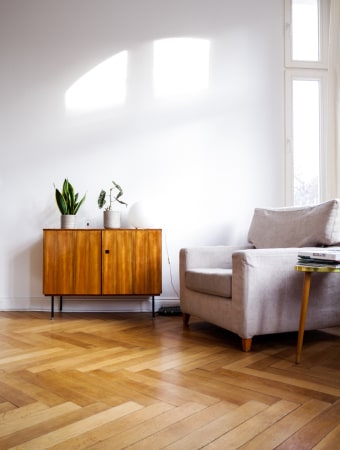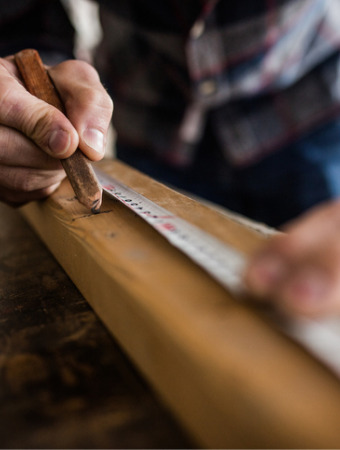 Carpentry work
The traditional craft of carpentry, gives us the opportunity to respond to your individual ideas in your construction project. Due to versatility and different styles we cooperate in the field of carpentry with different firm partners.
In order to restore the existing structure to its former glory, we focus mainly on the refurbishment of doors, windows, stairs and other wooden components.
Also for special custom-made products in the area of built-in furniture, as well as radiator coverings, we are happy to be your contact.
Tiling work
When it comes to tiles, there are no limits to the variety and creativity.
With the material different options are to you at the disposal: Porcelain stoneware, mosaic, granite, natural stones, slate and concrete look.
In addition, there are various options for the formats as well as for the surface texture: matte, glossy, rough, textured, polished, milled).
For all tiling work, the most important thing is a professional and standard substrate preparation. Likewise, a professional waterproofing should be carried out.

We ensure everything through our professionally trained personnel.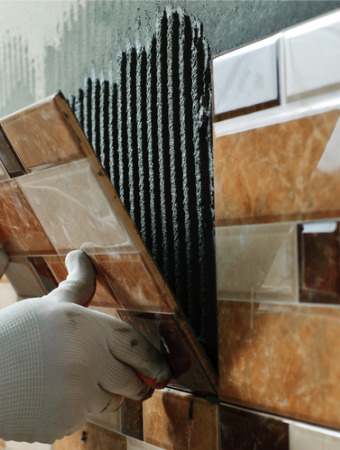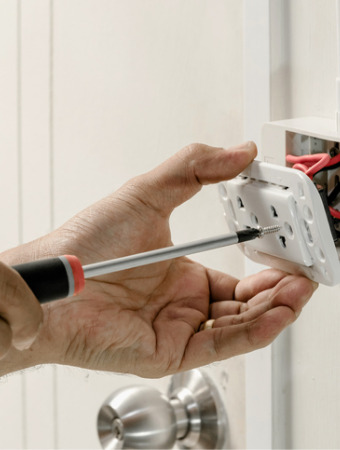 Electric
We electrify your real estate! With our registered master company partner for all electrical installation, we can offer all services in electrical matters.
A small excerpt of our services:
Complete new installation of the electronics of your property
Replacement and installation of fuse boxes
Implementation of lighting concepts
Intelligent control of light, heating, etc…
Sanitary & heating services
For many a core piece of the own four walls. When renovating and designing the bathroom, there are many possibilities in terms of spatial layout, as well as the choice of materials and suitable sanitary installations.
In order to provide you with the best possible result for your bathroom, we are at your side throughout the entire planning process. After the planning is completed, the work is carried out by our employees as well as our specialized partner companies.
Likewise all work to the topic heating belongs to our Portfolio. Whether it is the replacement of the existing heating pipe / radiators or the new installation of a therme.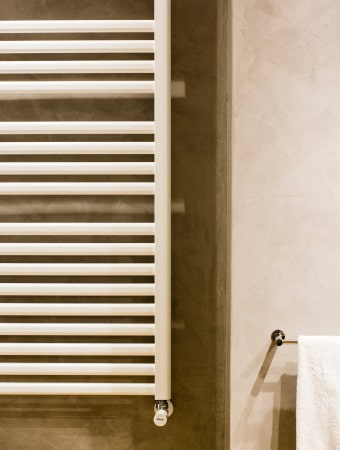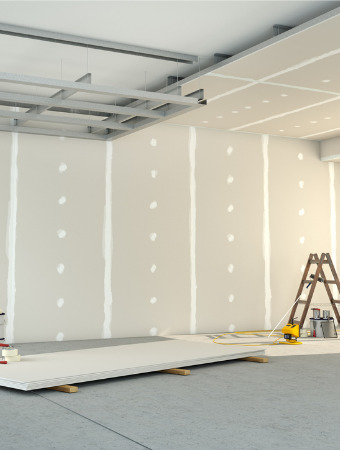 Drywall construction
When it comes to drywall construction, it is important to first check the conditions in the object as well as the corresponding substrates. After that, even small detail work in the area of walls and ceilings can contribute to very large differences in the appearance and quality of their object.
In drywall construction we can offer you the following services:
Trowelled walls and ceilings
Sanding work
Refinishing of stucco
Wall panels and ceiling panels
light joints / shadow joints / movement joints
acoustic elements
fire protection
brick masonry
Deconstruction
According to the agreement on their individual construction project, we fully cover all services on the subject of deconstruction. This can be optical work such as the removal of wallpaper, the dismantling of wall & floor coverings or removal of doors or even walls.
Of course, we also offer the dismantling of electrical installations as well as heating and sanitary systems.
When it comes to dismantling, the factor of protection and cleanliness is of paramount importance. The protective and clean handling of common property such as staircases, elevators and the like has the highest priority. Likewise, respectful interaction with neighbors is maintained during the construction phase, as well as attention to observing the appropriate quiet hours.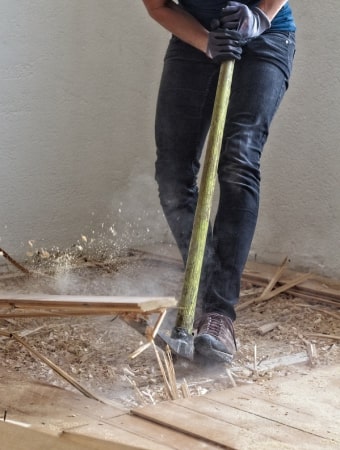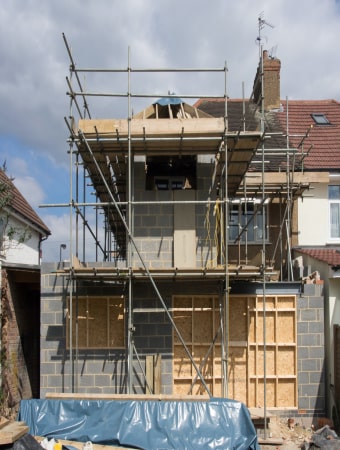 Old building renovation
When it comes to the subject of renovating old buildings, it is important to have conscientious and detailed planning. The correct coordination of all work and services is elementary for a precise renovation, which also includes all aspects of the existing old building. Especially the topics insulation and heating have to be considered in old building projects. When it comes to the renovation of old buildings, we see ourselves as a reliable contact partner for your projects as well as a moderator for questions regarding the protection of historical monuments and communication with the owners' association.
Clearance & waste disposal
During a construction project, there is actually always dirt, grime and especially construction debris.
Also in this area we see ourselves as a reliable partner for your construction project. We dispose of the construction waste of the respective renovation measures professionally and promptly during the construction phase. The complete waste disposal is carried out by us according to high quality standards, where the main focus is on the professional separation of the construction waste.
In addition, the renovation object is always handed over to the client in a clean condition.
If they want in addition a basic cleaning of the object, we can take them, that also with in the offer.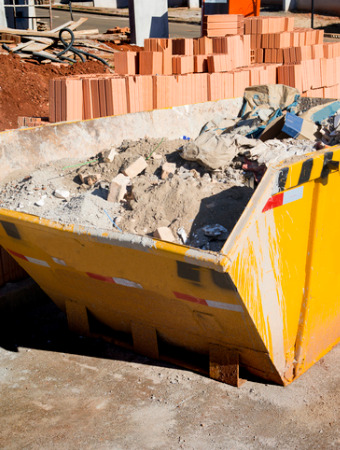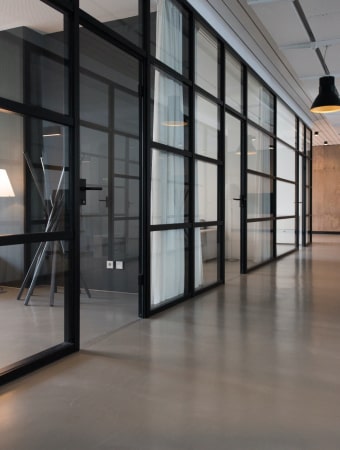 Glass work
Our services in the field of glass work, it is mainly the professional installation and replacement of windows and the respective elements. We also install mirrors and glass elements in doors. On the subject of glass, we trust our experienced partner companies and our partner glazier.
Small repairs
Even in addition to large construction projects or renovation projects, small repair measures arise again and again in their properties. Be it a floorboard that needs to be replaced, 2-3 tiles that need to be redone, or light filling measures on walls and ceilings. Also for such orders we are available to you with pleasure, and settle their inquiries fast and reliably.